Interview with Tatiana Malinko, Principal Figure Artist, by ElderScrolls.Net
Русская версия | English Version
Could you please introduce yourself to our readers and tell us a few words about yourself?
My name is Tatiana Malinko and I am a Principal Figure Artist with ZeniMax Online. I oversee the Character Customization group that is responsible for creating all of the player character assets—bodies, faces, hair, adornments, etc.
How did you end up in the game industry?
I have been working in games for the past 7 years. I did not really grow up dreaming to work in games. I always wanted to be an artist, and that is what I am: an artist first, and a computer games artist second. As a child, I studied at Feodosia's school (Ukraine) for fine arts. After high school I moved to St. Petersburg (Russia) where I studied restoration of building and structures at the city college for architecture.
After moving with my family to the US, I worked as a Graphic Artist with Transwestern Publishing in San Diego, CA. At that time, I developed an interest in Digital Modeling, thanks to the discovery of Russian website Render.ru. So I went back to school to learn this craft and got BFA in animation and Visual Effects from the Academy of Art University in San Francisco. I have been working as a Character Artist since my graduation from AAU in 2005.
On which projects have you been working before?
I worked on an animated short film called "Xplorers" for Xzault Media Group right after school, modeling and texturing stylized cartoon characters. My next job was for an online MMO social gaming start-up in Silicon Valley, called Hyperpia (later renamed Arcadia) where I had worked on a wide variety of assets, from characters and their clothing to environments and rigging. After that, I joined Vivaty Inc., another start-up company in Silicon Valley, where I worked on another social MMO game. Unfortunately, start-up companies are known to not be the most stable places to work, and after Vivaty shut down in 2010, I started to look for opportunities outside the San Francisco Bay Area.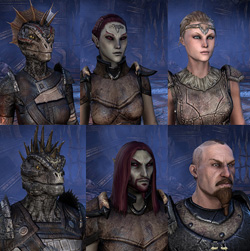 How did your cooperation with Zenimax Online Studios begin?
ZeniMax Online offered me a position of Figure Artist based on my previous experience working on customization systems for MMO type games, and I moved to the East Coast to work on The Elder Scrolls Online. The project looked very appealing to me, as I love fantasy and I was familiar with and very much liked the Elder Scrolls series and its style.
Are there a lot of other expatriates from CIS countries?
I know of at least 4 other people that work here, but there are more, I am sure of it.
Please describe your responsibilities and what work on ESO you are in charge of.
I lead a group of artists working on the character creation tools and all of the assets that it needs. We create the body and face types, hair, adornments, body and face markings and all other options that you see in the character creator and on in-game NPCs. Under the supervision of our Lead Figure Artist, we work closely with Engineering and Tech Art to ensure that assets get integrated into the character creator, and perform as expected.
MMO games are all about individuality within a community, and it's our responsibility to empower players with enough compelling options to create a look that is uniquely personal but remains consistent with our game world.
Did you talk to the developers from Bethesda Game Studios before and during work on TES Online? Continuity is what matters a lot in this kind of game.
Indeed, we look very closely at all the installments of the Elder Scrolls series and we have close ties to the team at Bethesda Game Studios to ensure stylistic consistency.
Why is the new character editor better than what other games have? What does it have in common with the one we had in Skyrim?
Due to the social nature of online role-playing games, players will spend a considerable amount of time interacting with other players, and will be seen by other players, so we needed to ensure that players have an abundance of control over the appearance of their avatars. Our goal is to make a character creator that empowers players with an intuitive tool set that allows them to express themselves by creating a unique look that accurately represents their personality, or the personality they wish to role-play.
Armor progression is very important in The Elder Scrolls Online and we needed to solve the difficult task of enabling any race and body type to wear any armor in game, which led to the development of a robust character re-proportioning system. This system allows us to offer an almost infinite amount of variation of body proportions and head shapes while ensuring that all of the wearable items in the game function correctly.
What inspires you in creation of characters?
I am a classically trained artist, so I look at classical art for inspiration: ancient Greek and Roman sculptures, artists such as Canova, Bernini, Michelangelo, Gustav Klimt. As a teenager I was fascinated by the works of Frazetta and Boris Vallejo and their style has influenced my art to a large degree. I find ballet very inspirational for studying the human figure as well.
I am a big fan of fantasy movies like "Conan" and "Red Sonja" (with Schwarzenegger). Medieval fantasy books and movies such as George R.R. Martin's "The song of Ice and Fire" are a great source of inspiration as well. And of course I'm a huge Elder Scrolls fan!
A lot of people draw parallels between the real world and the world of Tamriel. For example, Imperials resemble ancient Romans while Nords inherit the features of Scandinavians. Do you try to express these ethnic features in the appearance of your characters?
Absolutely. I think people relate to characters on-screen better if there are some real-life parallels between their appearance and behavior. Archetypes can be a powerful artistic tool when used properly. We do use particular ethnic flavors for various races; we also incorporate recognizable archetypes, such as warrior, rogue, healer, and mage within each race.
That said, real world parallels only serve as a starting point. Tamriel is a rich world with plenty of history and lore. Each race has its own unique culture and history and we work hard to represent that visually. We regularly put in little details for people who really know the lore, to discover.
It is said that Khajiiti people have a lot of different breeds, ranging from the ones that look like domestic cats to humanoid lions. Which kind of Khajiits will be playable in ESO? Are we going to meet other breeds?
Our character creator allows for a humanoid body with cat-like head. The variation comes from head shapes which range from lion to lynx to an almost domestic-looking cat, and an array of physique types and fur patterns. So you can have either a majestic lion complete with a mane, or a scruffy looking tabby cat. I am a cat lover so Khajiit are my favorite race!
What is the path that a character or a creature has to go down from an idea to the in-game realization?
It all starts with design. Our characters start from the ground up with gameplay in mind. We want every asset we create to add value and fun to the game. Once the function of the character is defined by the Design and Gameplay teams it goes to the Lore and Concept teams. We have a very knowledgeable Lore Master here who is wise in all things Elder Scrolls.
Our Concept Artists work closely with the Lore Master to flesh out the look for each character, paying close attention to how that character fits into The Elder Scrolls IP. The approved concept art then comes to the Character team where we create the in-game model and textures. The character then goes through a rigging process which prepares it for animation. Animators create a unique suite of locomotion, combat, and idle animations for each character. At this stage, Systems Designers take over and work together with the Animators and FX Artists to bring the character together into something that is compelling to play or to fight.
Have any funny or interesting events happened during the development of the game?
Well, the life of a game developer is never dull; there is a lot of excitement and some funny moments for sure. For example, we have to be careful creating patterns in texture, because sometimes the shapes can be interpreted as writing and some funny words may be seen. Some interesting moments occurred during internal playtests, especially when there are brand new assets tested for the first time. Sometimes you get emotes that let players do whacky things, etc.
Could you please give the newbies wishing to make their way into game industry a bit of advice?
Well, my advice is: whatever your passion is, just keep doing it. Never let rejection, especially in art, slow you down. Persistence and hard work really are the key to getting that dream job. A person smarter than me said this: It takes a certain number of steps to get from point A to point B, and that number is different for different people. You just have to make sure that you walk all those steps.
Social skills are very important as well, because game development is a collaborative process and you will have to be able to communicate and work closely with many other people. Always be receptive to constructive critique, because it is the only way for your skill to grow. And do not let negativity impact your creative spirit. Always stay positive!